"There is nothing more worthwhile than giving back, by paying it forward"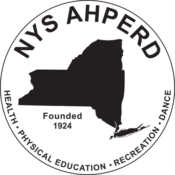 About NYS AHPERD
Since its inception in 1924, the mission of the New York State Association for Health, Physical Education, Recreation and Dance (NYS AHPERD) has been to support, encourage, facilitate, advocate, and promote physically active and healthy lifestyles through school and community programs in Health Education, Physical Education, Recreation, and Dance. We provide teachers with the knowledge and skills to instill in their students the understanding necessary to examine alternatives and make responsible health-related decisions; such decisions include physical activity as a foundation for a healthy, productive, and rewarding life. Our commitment to the relationship between physical activity, health, and academic achievement is the foundation of the services we provide.
Please consider a gift to either the Jay B. Nash Scholarship Fund or the NYS AHPERD Member Services Fund. NYS AHPERD is a 501(c)3 tax-exempt organization, making any gift you give to NYS AHPERD tax-deductible.