Join us for our 85th Annual Conference!
The NYS AHPERD Annual Conference is the premier event for professionals in the field of physical activity, physical education, school-based health, and wellness in New York State! Each year we host nearly 1,500 professionals and future professionals from around the state. We offer close to 200 unique programs that cover a wide variety of topics and incorporate the most recent findings on how students engage in physical education, health education and activity programs. Presentations showcase the latest techniques employed by successful teachers and coaches from not only NYS but across the country as well.
We offer a robust exhibit hall with over 60+ different vendors and summer camps who are friendly and eager to engage in discussion about how their products and services will assist you in providing a quality and efficient environment for your school communities.
Network and Celebrate Excellence!
Our annual conference gives attendees a unique opportunity to engage in meaningful and constructive conversations with individuals who are operating programs similar to your own, from all over the state. The chance to share ideas and offer feedback will be a valuable asset in approaching new and innovative ways of adjusting and enhancing your current curriculum, instruction and assessment strategies.
We take time to appropriately recognize those who have achieved amazing levels of excellence throughout the year. Master teachers, distinguished professionals and outstanding future professionals are acknowledged in front of their peers at our traditional awards ceremonies.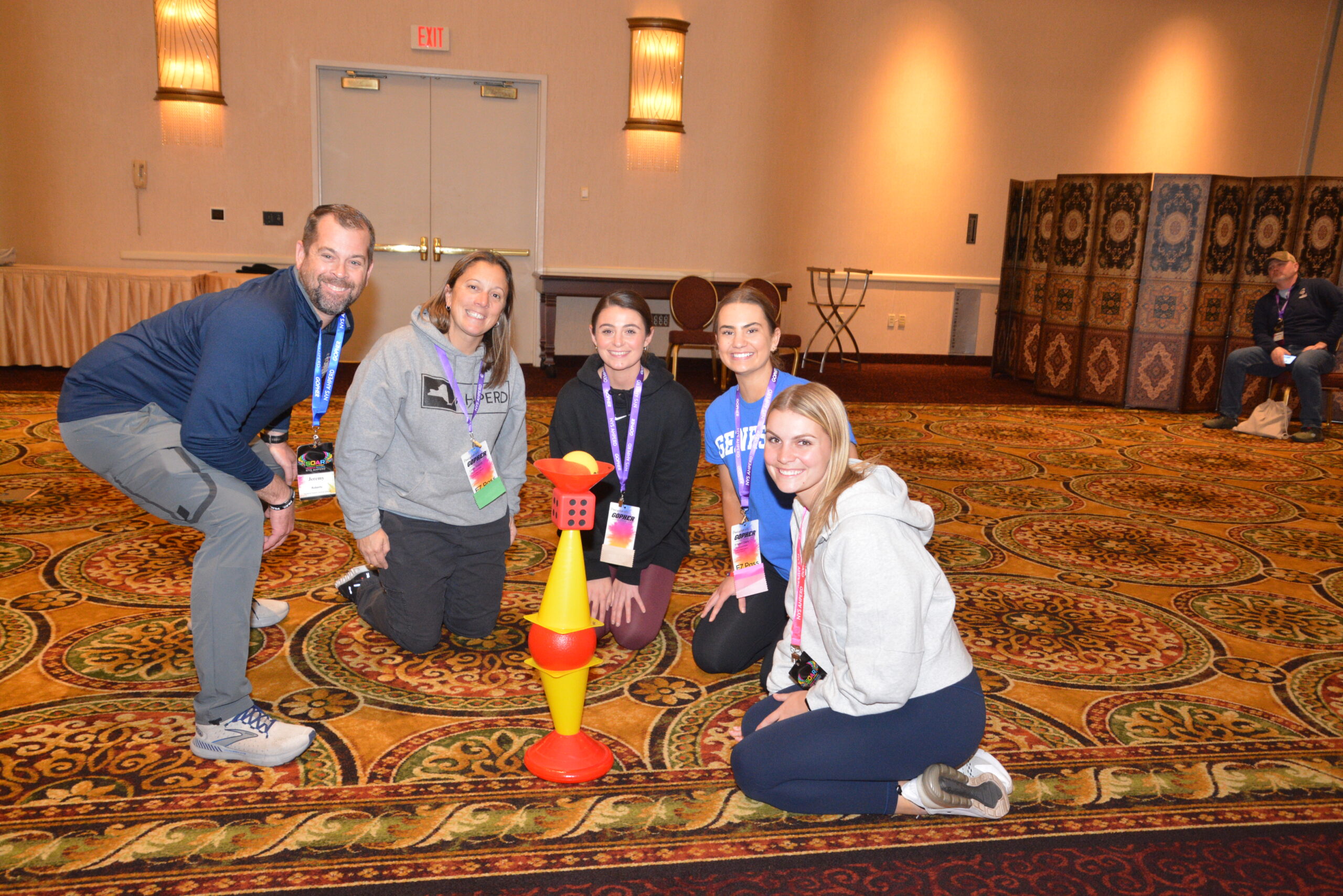 Interested in presenting?
Our conference grows each year because of the quality presentations we offer by amazing members like you who encourage, energize and empower each other by sharing your most inspiring lessons.
Do you have something incredible, new and exciting to share?  Click the link below to submit a call for programs application.
Do you have an extended training or certification program you would like to share?  Click the link below to submit a call for intensive trainings application.
2022 Annual Conference Follow-up Information
CTLE Certificates have been emailed; if you have questions about your certificate, please email ctle@nysahperd.org.
If you need a certificate of attendance, please send an email request to conferences@nysahperd.org.
Additional Exciting Information
Accommodations | Accommodations at an award-winning resort! Reduced rates for the Tower, Hotel, Lodge and the Inn at Turning Stone. Overnight rooms include free valet parking and complimentary access to the Tower Fitness Center and pools. Book by October 16 and mention NYS AHPERD to receive our negotiated rates.
Exhibitors & Summer Camps | A vibrant exhibit hall plays a vital role in enhancing the overall conference experience! 60+ spaces available along the wall and as island spaces throughout our heaviest trafficked area. Not-for-profit, commercial, college/university & camp rates available as well as early bird pricing.  Exhibitor information can be found below, camp informtion will be coming soon!
Annual Conference Questions?
Registration ~ Purchase Orders~ Member Discounted Pricing~ Payment ~Substitutions~ EZ Pass and MORE!
Review the How- To Instructions and answers to your Annual Conference questions.
Wondering if you should exhibit at our annual conference?  We do!  Our attendees include health and physical education teachers, directors of health and physical education, university and college professors, worksite health professionals, athletics directors and coaches, recreation and dance specialists, and future professionals.
Historical Conference Information
Are you looking for more information about previous conferences?  Click the button below to check out our conference history which include dates, locations and themes!