Stop the Killing: How to End the Active Shooter Crisis
Meet the Presenter…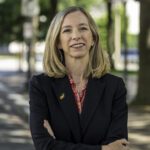 Katherine Schweit frequently provides interviews and analysis for on air, radio, and print media on issues related to mass shootings, active shooters, threat assessments, school and business security, law enforcement matters, critical incidents, crisis communications, and other security-related matters.
She is an author, attorney, former Chicago prosecutor, and career Federal Bureau of Investigation special agent who authored Stop the Killing: How to End the Mass Shooting Crisis (Aug. 2021; Rowman and Littlefield). The guidebook is a revealing look into how she counsel's clients in her current security consulting business, Schweit Consulting LLC.
After the murder of 20 children and six adults at Sandy Hook elementary school in 2012, Schweit was promoted to the FBI executive ranks and joined a violence prevention team as part of a White House National Security Council effort within then-Vice President Joe Biden's office. There, she worked with leaders from other federal agencies gathering best practices from federal and private industry experts, nationally and internationally. She was part of the crisis team responding to incidents, including the shootings at the Holocaust Memorial Museum, the Pentagon, and the Navy Yard in the Washington D.C. area.