Catskill Zone Mini-Conference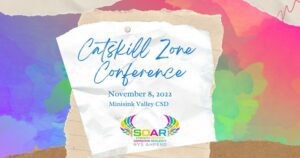 Join us, Tuesday, November 8th at Minisink Valley Central School District, Slate Hill, NY 10973.
Registration will begin at 8:15 am (light refreshments will be served), followed by a welcome session at 9:00 am.
We are excited to bring many outstanding presenters including;
Christine Drago, OPENPhysEd.org
Three OPENPhysEd sessions will be presented, Elementary PE, Secondary PE and K-12 PE
This workshop puts the focus on using OPEN's free standards-based curriculum resources, which give physical educators creative ways to engage students and teach lessons that ensure academic rigor in any instructional environment. This is an activity-based session — come prepared and ready to move! Every OPEN instructional module includes research-based teaching tools such as academic language resources, depth of knowledge tiered question techniques, Marzano academic rigor strategies, universal design strategies, and social and emotional learning integration. Additionally, this professional learning experience will address assessment and evaluation in learning management systems, and how to plan for changing educational environments.
Susan Fisher, School Mental Health and Resource Training Center – Cultivating Teacher Resilience
School staff will have an opportunity to explore self-care and wellness from a strengths-based perspective, including understanding stressors, building resiliency and self-compassion, and managing change.
Member Rates
Professional: Advanced $52 (by 11/2/22) Onsite $62
*Student: Advanced $42 (by 11/2/22) Onsite $52
Retiree: Advanced $52 (by 11/2/22) Onsite $62
Non Member Rates
**Professional: Advanced $165 (by 11/2/22) Onsite $180
*Student: Advanced $52 (by 11/2/22) Onsite $62
Retiree: Advanced $62 (by 11/2/22) Onsite $77
*You must register at the professional rate if you are working full-time in the field of HPERD
**Professional Non-Member registrations include a one-year NYS AHPERD membership.