2022 Southeastern Zone Conference
Nov 08, 2022 7:00AM—12:30PM
Location
White Plains High School 550 North Street White Plains, NY 10605
Categories Zone Conferences/Events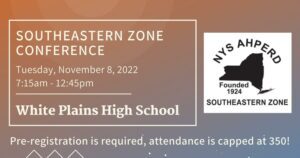 Join us, Tuesday, November 8th at White Plains High School, 550 North Street, White Plains, NY 10605
Check-in is from 7:15 am – 8:00 am, Session 1 begins at 8:00 am and the program will conclude at 12:45 pm.
There will be NO ONSITE registration. Pre-Registration is required and attendance is capped at 350 to accommodate building and parking capacity.
Everyone must register online, a PO without the successful completion of the online registration form will not secure your registration.
We are excited to welcome Becky and Mark Foellmer as our Featured Presenters!
A list of sessions will be posted as soon as it is available.  CTLE's will be available.
Member Rates
Professional: $25
Student: $15
Retiree:  No charge
Non Members
We expect limited spots to be available for non members beginning October 11th.
Professional Non Member: $75
Student Non Member: $45
Click here
 to check out the benefits of membership